CPD homes
---
Accreditation of CPD homes
In July 2021, Australia's Health Ministers approved an updated Medical Board of Australia Registration standard:Continuing professional development (CPD) which outlines the Medical Board's minimum requirements for CPD for medical practitioners.
The new registration standard will take effect from 1 January 2023, and will apply to all registered medical practitioners, with a few exceptions.
The three core changes to CPD are:
1. CPD homes for all – for quality assurance
2. Professional development plans for all – for CPD with purpose
3. Different types of CPD – for CPD with value
The new registration standard is part of the Medical Board's work to strengthen continuing professional development, which supports doctors through life-long learning. Further information is available on the Medical Board website:here
The Medical Board has advised that the AMC will be the accreditation authority for CPD homes. The Medical Board will use the AMC's accreditation decision on CPD homes to approve the CPD homes. The approved CPD homes will provide a CPD program(s), support and guidance to practitioners, and audit and report compliance to the Medical Board.
The accreditation criteria for CPD homes will be separate from the Standards for Assessment and Accreditation of Specialist Medical Programs and Continuing Development Programs by the Australian Medical Council, and will stand alone as a full set of criteria, in order to apply to both accredited specialist medical colleges and other organisations equally. Standard 9 of the current standards will be removed following confirmation of the new CPD homes accreditation criteria. The Medical Council of New Zealand standard for recertification will remain for accredited specialist medical colleges with bi-national training programs.
The AMC will progressively accredit organisations to be CPD homes from late 2022 and throughout 2023 and beyond.
Timeline
The AMC and the Medical Board are working towards the following timeline for the accreditation of CPD homes: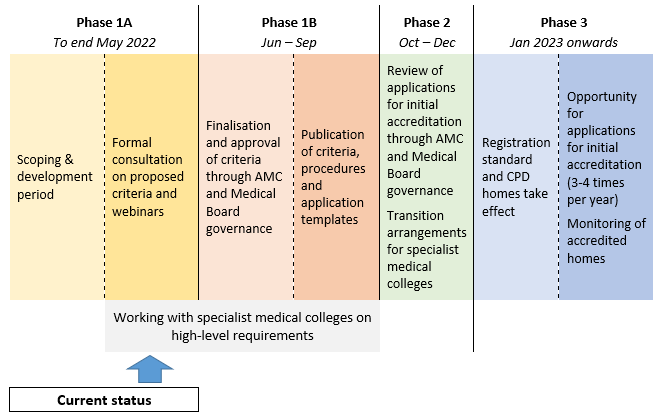 Consultation on the Criteria for AMC Accreditation of CPD Homes
The AMC is currently consulting on the proposed Criteria for AMC Accreditation of CPD Homes, and also seeks an expression of interest from organisations interested in applying to become a CPD home.
The following consultation documents are provided:
• Consultation paper including Frequently Asked Questions for CPD homes
• Attachment 1: proposed Criteria for AMC Accreditation of CPD Homes
• Attachment 2: Consultation feedback form and Expression of Interest form
• Attachment 3: Process for accreditation of CPD homes
Closing date for consultation feedback: 1 June 2022
Consultation webinars
Engagement webinar(s) for organisations interested in becoming a CPD home will be held on:
• Tuesday 10 May 2022: 1.30 – 2.30 p.m. (AEST)
• Tuesday 17 May 2022: 10.30 – 11.30 a.m. (AEST)
Representatives from the Medical Board and the AMC will talk through the Registration standard and arrangements for CPD homes, and there will be an opportunity to ask questions.
Please email cpdhomes@amc.org.au to register for one of the webinars (please provide the date on which you will attend).
Please note the Medical Board will arrange webinars for practitioners in the second half of the year.
Enquiries
For enquiries regarding the accreditation criteria, or the process for accreditation of CPD homes, please email: cpdhomes@amc.org.au
For enquiries regarding the Registration standard: Continuing professional development, please email the Medical Board of Australia: performanceframework@ahpra.gov.au. performanceframework@ahpra.gov.au