Workplace based assessment (Standard Pathway)
---
Some IMGs in the Standard Pathway can have their clinical skills and knowledge assessed in the workplace by AMC-accredited providers as an alternative to the AMC Clinical Examination. However, the program currently has limited availability, with a range of assessment programs available. The AMC is not responsible for securing employment for workplace based assessment.
Workplace based assessment of your performance in everyday clinical practice in the Australian healthcare setting tracks your progress in integrating clinical knowledge and skills as a basis for safe and effective clinical judgments and decision making. It also assesses how well you deal with patients and whether you work productively in a team of healthcare professionals.
The content and the assessment standard of accredited workplace based assessment programs are approved by the AMC and overseen by members of the AMC Board of Examiners, who ensure that the format and content of the assessments are consistent with the required standard.
The assessment methods for workplace based assessment programs are rigorous and structured. Disciplines covered include medicine and surgery; obstetrics and gynaecology; paediatrics; and psychiatry.
Eligibility
Before you can take part in a workplace based performance assessment, you must have passed the AMC CAT MCQ Examination and been granted limited registration by the Medical Board of Australia. You need limited registration to be employed in an approved clinical position for workplace based assessment.
Process summary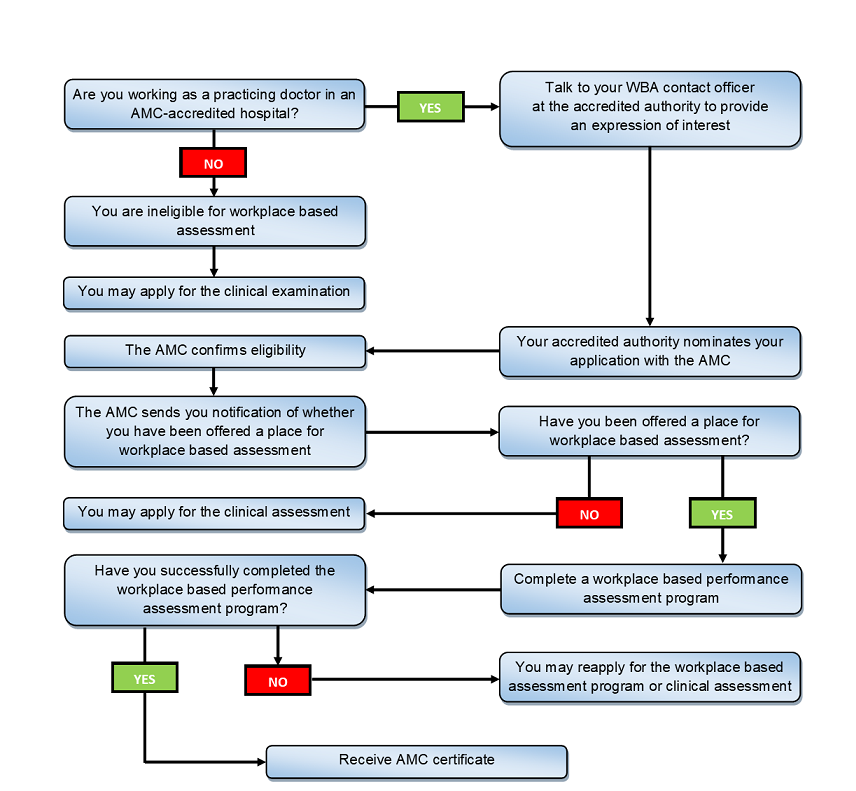 Accredited assessment programs
Workplace based assessment programs must be accredited by the AMC. To date, accredited workplace based assessment programs are available at the sites shown in Table 2.
Table 2 : AMC-accredited workplace based assessment program providers
Program provider
Location
Contact
Central Coast
Local Health District
Gosford and Wyong,
New South Wales
Ms Samantha Burrows
Project Co-Ordinator
P: 02 4320 3385
E:CCLHD-MWEUWBA@health.nsw.gov.au
Flinders Rural Health SA
Mount Gambier Hospital,
South Australia
WBA Team
E: wbamtgambier@flinders.edu.au
W: Flinders University Mt Gambier WBA Program
Hunter New England Local Health District
Newcastle, Armidale, Manning, Tamworth and Taree,
New South Wales
Ms Lynette Gunning
WBA Program Coordinator
P: 02 4985 3313
E: HNELHD-WBA@health.nsw.gov.au
Illawarra Shoalhaven Local Health District
Shellharbour, Bulli,
Wollongong and Shoalhaven Hospitals
WBA Program Officer
Ph: 02 4253 4773
E: ISLHD-WBAProgram@health.nsw.gov.au
Launceston General Hospital
Launceston General Hospital;
North West Regional Hospital, Burnie;
Mersey Community Hospital,
Latrobe and Royal Hobart Hospital, Tasmania
Ms Debbie West
Consultant – State wide Workplace Based Assessment Program
P: 03 6777 4344
E: debbie.west@ths.tas.gov.au
Monash Health
Monash Medical Centre, Victoria
Ms Pina Tyrrell
WBA Program Assistant
Monash Doctors Education
P: 03 9594 3743
E: wba@monashhealth.org
W: Monash Doctors WBA Program
Mid North Coast Local Health District
Kempsey District Hospital
(with some support from Port Macquarie Base Hospital)
and Coffs Harbour Health Campus, New South Wales
Mrs Robyn Finn
Project Officer
P: 02 5524 2475
E: Robyn.Finn@health.nsw.gov.au
Sunshine Coast Hospital and Health Service
Sunshine Coast University Hospital,
Nambour Hospital,
Gympie Hospital and Caloundra Hospital, Queensland
Ms Melissa Ceccato
WBA Program Manager
P: 07 5202 2989
E: sc-wba@health.qld.gov.au
WA Country Health Service
Bunbury, Geraldton and Kalgoorlie,
Western Australia
WBA Program Manager
E: wbawa@health.wa.gov.au
W: WA Country Health
Wide Bay Hospital and Health Service
Hervey Bay and Maryborough Hospitals,
Queensland
Mr Bob Clarke
WBA Program Manager
P: 07 4325 6946
E: WBHHS-WBA@health.qld.gov.au
To find out more about how your employer (hospital) can become a provider of an accredited program, via the Contact Form.
Applying for a place
To apply for a workplace based assessment program, you first need to contact the relevant workplace based assessment manager at the site where you intend to work or are already working. The provider will explain the selection and application process and any additional requirements before offering you a place in the assessment program. Some providers require you to undertake a pre–workplace based assessment program in addition to meeting the AMC's eligibility requirements.
The accredited provider has the final responsibility for offering places in its workplace based assessment program. The AMC has no role in securing employment for workplace based assessment.
Learn more about the assessment tools used in workplace based assessment
The WBAonline website is designed to help AMC-accredited providers of WBA programs to continue to improve and standardise their training programs and provide AMC candidates on the Standard Pathway (WBA) a clear picture of what to expect when undertaking certain kinds of WBA.
The website features interactive learning modules on two popular WBA assessment tools (case based discussion and multisource feedback). Website users can also watch videos of effective feedback sessions. The modular format enables users to customise their time to the most effective areas for learning.
See the website.
If you have difficulties to log-in to this page, please contact the AMC. It is important to provide your AMC candidate number in the email to enable the AMC to assist.