Process for the review of the National Framework
---
Review governance 
The following provides a summary of the governance of the project. AMC working groups and committees include representatives of key stakeholder groups.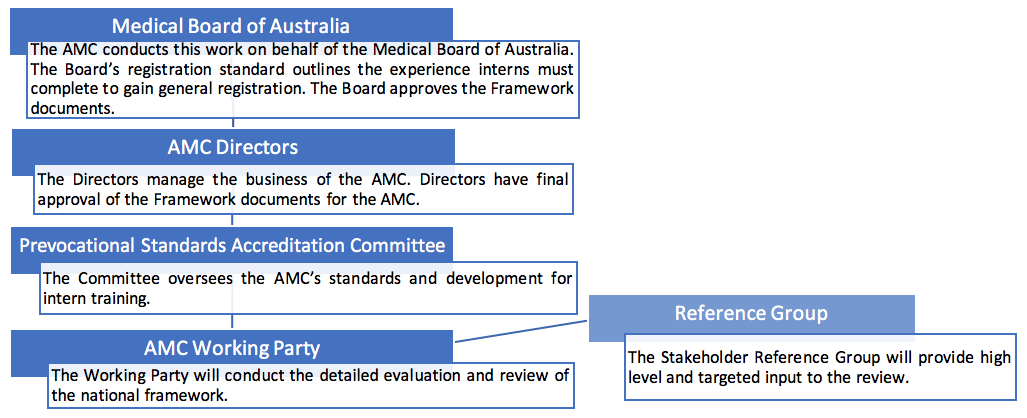 Review process 
The AMC is conducting a two-staged review process.
Current Status
Scoping & evaluation
Formal consultation on scope
Detailed review, development & consultation period
Phase 1
Phase 2
Phase 1 
Phase 1
The AMC has formed the scope through the process described below.
| | |
| --- | --- |
| Environmental scanning | To ensure that internship remains fit for purpose in the 21st century the AMC will consider policy initiatives and research that have relevance to or could impact on internship. |
| Creating an evidence base | Evaluation of the impact of the framework and identification of key issues through a range of activities including data analysis, focus groups, surveys, policy reviews and engagement in national forums. |
| Testing ideas | The AMC is testing ideas through targeted consultation activities with stakeholder groups while developing the scope of the review. |
The AMC formally consulted on the scope of the review in October and November of 2019. The scope was confirmed and feedback gathered will be used to inform the detailed review and development phase.
Phase 2 
Detailed review phase will include review and further development of framework documents based on feedback from Phase 1 and consultation on proposed changes. Phase 2 will include a range of continued opportunities for stakeholder engagement.
Stakeholder engagement 
The AMC review approach includes opportunities to consult and engage with stakeholders. Opportunities for stakeholder engagement in this review will include through national forums, formal consultation periods and a broad representative Reference Group for targeted consultation.
The AMC welcomes opportunities to engage with stakeholders through attendance at meetings and forums.
Stakeholders in this review include:
Medical Board of Australia
Intern training accreditation authorities (Postgraduate medical councils)
Health services
Junior doctors
State and territory governments
Commonwealth government
Consumers
Medical schools
Specialist colleges
Other related professions
Click here for further information about how to engage in the review process.